Definition
Spondyloarthritis (SpA) refers to a heterogeneous family of clinically and genetically related rheumatic diseases characterized by sacroiliitis, spondylitis and peripheral joint involvement (arthritis, enthesitis, dactylitis). In a substantial part of SpA patients, muskuloskeletal involvement is accompanied by extra-articular manifestations (uveitis, psoriasis, and inflammatory bowel disease (IBD)).1
Based on the predominant clinical manifestations in the axial skeleton or the peripheral joints, SpA can be divided into axial SpA and peripheral SpA respectively (See figure below). Axial SpA includes non-radiographic axial spondyloarthritis (nr-axSpA) and ankylosing spondylitis (AS, formerly known as Bechterew's disease). Peripheral SpA includes psoriatic arthritis (PsA), reactive arthritis, and arthritis associated with IBD.1
Enthesitis and new bone formation are pathognomonic features of SpA.2 It is hypothesized that the threshold for triggering entheseal inflammation is lower in SpA patients. A remarkable tissue response follows the entheseal inflammation, with local new bone formation at the inflamed enthesis as central factor. The appearance of enthesiophytes, new bone formation at the site of the entheses, in patients with psoriasis without apparent articular symptoms highlights the role of enthesitis as early feature in SpA.3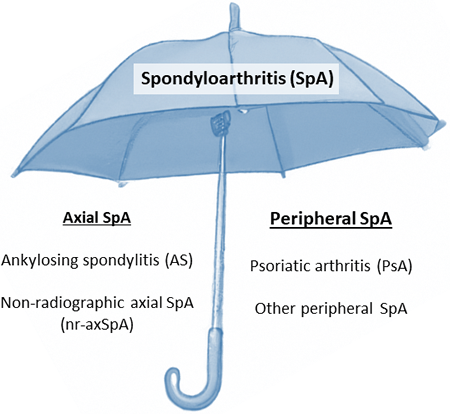 Axial spondyloarthritis (axSpA)
Axial spondyloarthritis (axSpA) is characterized by inflammation of the axial skeleton, i.e.  the sacroiliac joints (SIJ) and spine.1 The disease is subdivided into ankylosing spondylitis (AS) and non-radiographic axial SpA (nr-axSpA), based on the presence or absence of radiographic sacroiliitis.4 Advances in the understanding of the progress of the disease led to the consideration of axSpA as a spectrum, with nr-axSpA representing an earlier stage. During this stage, changes detected on plain radiographs might be absent, but inflammation at the SIJ can be detected via MRI.4 (See figure below) 

Psoriatic arthritis (PsA)
Psoriatic arthritis (PsA) is the most well-studied form of peripheral SpA.1 PsA is characterized by musculoskeletal manifestations accompanied by psoriasis, a chronic inflammatory skin disease.5 About 30% of psoriasis patients have PsA, and skin lesions appear before the musculoskeletal symptoms in the majority of the PsA patients.6,7 Besides psoriasis and peripheral arthritis, ~83% of the patients are affected by nail psoriasis8, up to 50% develop enthesitis and/or dactylitis6 and axial disease is seen in up to 70% of the patients9. (See figure below)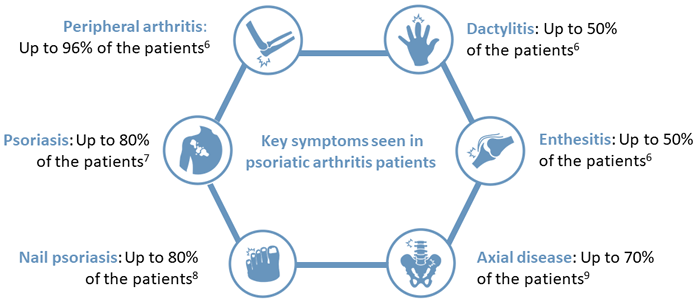 ---
References
Garg et al. (2014) Best Pract Res Clin Rheumatol 28, 663-72.
Schett et al. (2017) Nat Rev Rheumatol 13(12):731-41.
Simon et al. (2016) Ann Rheum Dis 75, 660–666.
Rudwaleit et al. (2005) Arthritis Rheum 52(4):1000-8.
Olivieri et al. (2014) Nat Rev Rheumatol 10(9):531-542
Ritchlin et al. (2017) N Engl J Med376(10):957-970.
Gottlieb AB et al. (2006) J Dermatol Treat 17(6):343-352.
Lee S et al. P&T. 2010;35(12):680-689.
Classification criteria 
AxSpA classification criteria
After the creation of the term ankylosing spondylitis (AS) in the early 1900s, the first classification criteria of AS were described in 1961, called the Rome criteria.1,2 in these first criteria, radiographic sacroiliitis was incorporated as important part. The modified New York criteria, published in 1984, combined radiographic sacroiliitis with the newly described concept of inflammatory back pain (IBP). However, early disease without definite sacroiliitis on radiographs remained undetected with these criteria. New imaging modalities indeed demonstrated that the inflammation leading to structural changes at the SIJ can be detected years before the first radiographically visual damage.3 The European Spondylarthropathy Study Group (ESSG) and Amor criteria described for the first time AS as part of the SpA spectrum.2 The Assessment of SpondyloArthritis international Society (ASAS) group proposed the term axial spondyloarthritis (axSpA) for this spectrum, while peripheral SpA was chosen to describe the spectrum of SpA diseases with peripheral skeleton involvement. In the axSpA classification criteria, they proposed a subclassification into a clinical arm and imaging arm, based on appearance of SIJ abnormalities on MRI/X-ray.3 (See figure)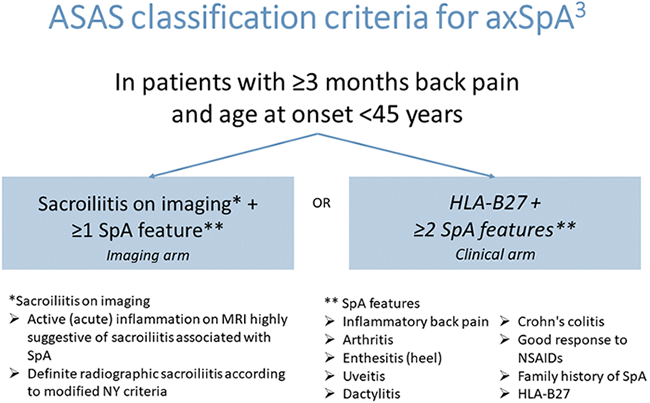 Peripheral SpA classification criteria
While the ESSG and Amor criteria took into account the entire SpA spectrum, also including peripheral SpA, the ASAS group first developed criteria for axSpA.3 The ASAS classification criteria for peripheral SpA were described subsequently, starting from patients with peripheral arthritis, enthesitis AND/OR dacytlitis.4 These symptoms typical for peripheral SpA combined with more than 1 or 2 other parameters could define the target population with high sensitivity and specificity.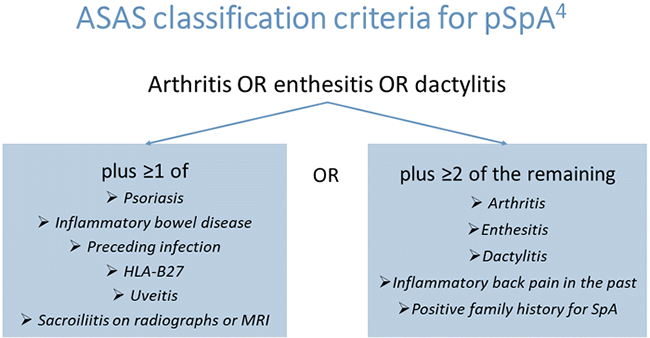 Specific classification criteria were also developed for PsA in particular, like the Moll and Wright and the Bennet criteria.5 The CASPAR (Classification criteria for Psoriatic Arthritis) criteria were described in 2006, consisting of established inflammatory articular disease with at least 3 points of specific features.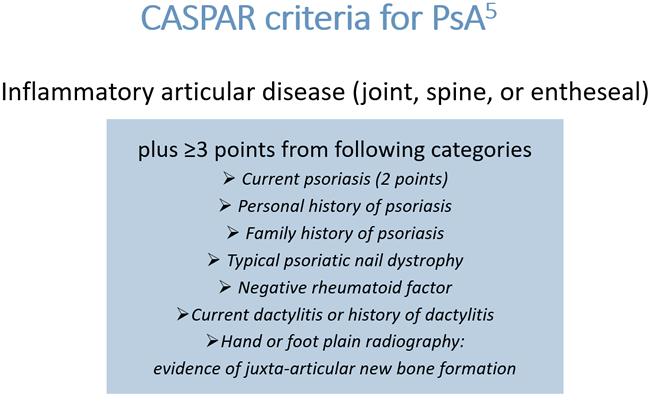 It is important to note that these classification criteria serve mainly the purpose to enroll appropriate patients into clinical trials.2,5 They are not developed for diagnostic purposes in individual clinical encounters and inappropriate use can lead to overdiagnosis in clinical practice.
---
References
Sieper and van der Heijde (2013) Arthritis Rheum 65:543-51
Garg et a (2014) Best Pract Res Clin Rheumatol 28, 663-72.
Rudwaleit et al. (2009) Ann Rheum Dis 68(6):777-83.
Rudwaleit et al. (2011) Ann Rheum Dis 70(1):25-31.
Taylor et al. (2006) Arthritis Rheum 54(8):2665-73.
Therapeutic landscape
Over the past 10 years, the treatment landscape of SpA went through a substantial change, with an expansion of new therapies and new modes of action. Guidelines and recommendations have been developed to guide clinicians in their decision and enable the best outcome for their patients.
Therapeutic options for axSpA1,2
Non-pharmacological treatment: Regular physical exercise and, if needed, physiotherapy represent an essential pillar in the management of axSpA.
Non-steroidal anti-inflammatory drugs (NSAIDs)
Targeted biological therapies:

Tumor necrosis factor (TNF) inhibitors
Interleukin (IL)-17 inhibitors
Janus kinase (JAK) inhibitors

 
Therapeutic options for PsA3-4
Non-pharmacological treatment: Physical therapy, smoking cessation, weight loss, exercise
Conditionally: non-steroidal anti-inflammatory drugs (NSAIDs), topicals, intra-articular/oral glucocorticoids.
Conventional synthetic disease-modifying anti-rheumatic drugs (csDMARDs)
Targeted biological therapies:

TNF inhibitors
IL-12/23 and IL-23 inhibitors
IL-17 inhibitors

Targeted synthetic DMARDs:

JAK inhibitors
Phosphodiesterase 4 (PDE4) inhibitors
---
References
Ramiro et al. (2023) Ann Rheum Dis 82(1):19-34 
Ward et al. (2019) Arthritis Care Res (Hoboken) 71(10):1285-1299.
Gossec L et al. (2020) Ann Rheum Dis 79(6):700-712
Coates et al. (2022) Nat Rev Rheumatol 18(8):465-479.
Patient associations
In Belgium, patients diagnosed with SpA can search for information or come together with other patients through the patient organizations.
 
ReumaNet
ReumaNet vzw unites Flemish patient associations that raise awareness of rheumatic diseases. ReumaNet fights for regulations in order to make life easier for thousands of patients, to guarantee affordable and adequate care, to keep patients professionally active and to make leisure activities possible.
Click here to visit the home page of ReumaNet: https://www.reumanet.be/
 
CLAIR
CLAIR (Contre les Affections Rhumatismales Inflammatoires) brings together French-speaking patients and patient associations with rheumatic diseases in Belgium.
They wish for a world where every patient can have a better life thanks to good information about his disease, affordable and qualitative treatments and support for maintaining professional and leisure activities.
Click here to visit the home page of CLAIR: https://clair.be/
VVSA
VVSA vzw is a Flemish association of and for people with (axial) spondyloarthritis and their families. You can come to VVSA for information about spondylitis, contact with other patients, customized exercise if you have the disease, a listening ear, ... Everyone who works in the association does so voluntarily and lives with the disease themselves.
Click here to visit the home page of VVSA: https://www.spondylitis.be/
Arthrites
The French association Arthrites was born from the desire of patients who wanted to break the isolation in which they found themselves. It covers 4 conditions: juvenile arthritis, PsA, SpA and rheumatoid arthritis.
Click here to visit the home page of Arthrites: http://www.arthrites.be/